Hey! Welcome to my stop on the YA Scavenger Hunt Trail!
This bi-annual event was first organized by author Colleen Houck as a way to give readers a chance to gain access to exclusive bonus material from their favorite authors…and a chance to win some awesome prizes! At this hunt, you not only get access to exclusive content from each author, you also get a clue for the hunt. Add up the clues, and you can enter for our prize–one lucky winner will receive one signed book from each author on the hunt in my team! But play fast: this contest (and all the exclusive bonus material) will only be online for 72 hours!
Go to the YA Scavenger Hunt page to find out all about the hunt. There are EIGHT contests going on simultaneously, and you can enter one or all! I am a part of the

TEAM PINK

–but there is also a red team, a gold team, an orange team, a teal team, a purple team, a green team, and a blue team for a chance to win a whole different set of signed books!
If you'd like to find out more about the hunt, see links to all the authors participating, and see the full list of prizes up for grabs, go to
the YA Scavenger Hunt page
.
***THE SCAVENGER HUNT FINE PRINT***
Directions: Below, you'll notice that I've listed my favorite number. Collect the favorite numbers of all the authors on the indie team, and then add them up (don't worry, you can use a calculator!).
Rules: Open internationally, anyone below the age of 18 should have a parent or guardian's permission to enter. To be eligible for the grand prize, you must submit the completed entry form by October 4, at noon Pacific Time. Entries sent without the correct number or without contact information will not be considered.
LET THE HUNT BEGIN!
~MEET KELSEY KETCH, AUTHOR OF NAME OF RA~
~ABOUT NAME OF RA~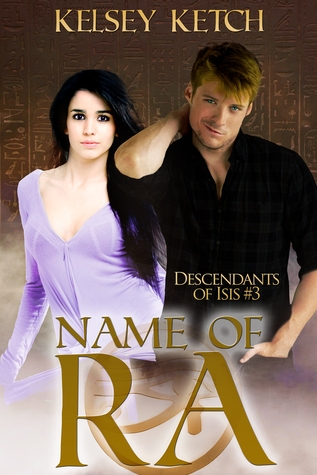 "Set has risen."

After being on the run from a psychotic cult for a week, Natara "Natti" Stone has finally come to realize she and Seth are the only two people standing between the Sons of Set and the secret name of Ra. Holding a part of the key that unlocks Ra's power, they relocate to a more isolated location in the California mountains. While laying low, Natti becomes even more determined to understand her mother's bloodline and her blessing from the goddess, Isis. But when she starts seeing the truth behind her destiny, she begins to doubt her role in the events that are about to unfold.

Then the unthinkable happens . . .

All Seth O'Keefe wanted was to get Natti as far away from his father and the Sons of Set as possible. Unfortunately, after hearing of Natti's destiny from Isis's own lips, he realizes they have bigger issues to worry about. Especially when one stupid slip up leads the god of chaos himself straight to their doorstep. Now Natti is the god's prisoner, and Set holds the key to unlocking the location of the secret name of Ra. Can Seth save Natti from her own destiny and thwart the demented god's rise to power?

*Note: Content for Upper YA*
~DAUGHTER OF ISIS~
Start the series with DAUGHTER OF ISIS, only 99 cents!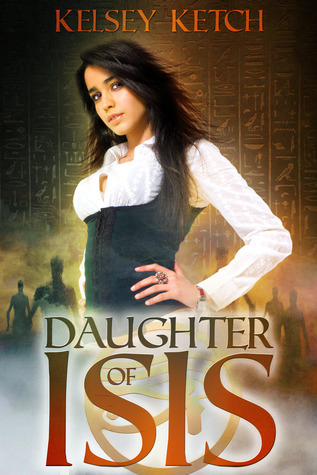 ~SNEAK PEEK~
Seth flexed his stiff fingers from their white-knuckle grip on the steering wheel. He couldn't believe he didn't think of this before. He had been so focused on getting Natti out of California—and out of the country—that he didn't think to hide right under his father's nose. Best of all, the cabin would provide everything they need, including a place to train. Perfect, per Natti's latest request. Though honestly, he wasn't exactly happy with the agreement. It might be selfish, but he wanted to be the one she turned to for protection. He wanted to be her savior. It was her touch that changed his mind, enveloping him in the cold hard truth of their situation.
The same thing had occurred before, back in the Death Valley tomb. Back when she was putting her life in danger, and in his rage, he threatened to wipe her memory if she didn't obey. A stupid threat made when his temper and beast were unhinged. He was now thankful her touch had saved her from his rage. That it forced him to see what was meant to be. It prevented him from making the biggest mistake of his life.
Glancing at his mother's ankh, Seth's thoughts turned over to the other three women he failed in the past couple of weeks. None of them had a chance against his father's power. He had no control over his mother's death. Mandy's fate had been helped along by his charm, ripening her mind for the taking. And then there was Ashley, a lamb Seth had unknowingly led to the slaughter. His grip tightened even more on the steering wheel. If teaching Natti how to defend herself meant the difference between life and death, then there was no reason to argue the point. Besides, it might actually be fun making her work her pretty little butt off for a change.
He glanced over at Natti, a mischievous smile twitching at the corners of his lips. She was studying the flail for the eighth time during the seven-hour drive from Nevada. Her slender fingers gently tracing the few lines of hieroglyphics carved into the staff. That intense focus and the twinkle in her eye when she lost herself to the magic and mystery of the ancient symbols were just two of the things he loved about her.
"Would you put that down for a minute?" Seth half-laughed, taking the flail from her—which felt oddly warm to the touch—and placing it in the back seat with the one bag of groceries they'd picked up on the way. Just the basics: bread, milk, butter, eggs, tea . . . The cabin would be stocked up with any other shelf food and drinks they might need. "You've been staring at it on and off for most of the trip."
Natti offered him a weak smile. "Sorry. I'm kind of dying to know what it says. After everything that happened, I'm curious where Ra's secret name might be hidden."
Seth flinched and grimaced in guilt. He hadn't told her about the prophecy. That she was destined to be the one to carry the power of Ra, and there were two completely divergent paths her life could go in: to either destroy Set or rule by his side. Neither were exactly what Seth wanted for her. He wanted to create a third path. One where she was entirely his. No gods. No flail. No secret name. Just him and Natti, on the road and on the run.
"I promise I'll translate it once we're settled in."
"And where is it exactly that you're taking me?" She glanced around at the changing landscape.
Seth looked out the window, taking in the barren mountains, bush-like vegetation, and a few palm trees. Almost every single house was visible from the road. The ones that weren't, lay beyond a long, hidden driveway surrounded by thick bush-like trees.
"A place called Springville," he replied. "There's a cabin just outside of town."
Natti's tension instantly relaxed. "And Sean won't find for us there?"
Seth shrugged. "My father never took an interest in where I went or what I did, unless it interfered with my training. He never asked, I never told."
Natti's eyes were filled with pity when they flashed his way. Honestly, she shouldn't bother. She came from a caring family filled with love and concern. And sure, even some of the Sons actually took an interest in their kids' lives, like Jacob with Q and Mikael with Ky. But in general, the Sons only cared about themselves.

Add up all the favorite numbers of the authors on
Team Pink

and you'll have the secret code to enter for the grand prize! I've always been pretty good at keeping secrets.
I could probably tell you

8

secrets right now.

;)